Posts for tag: tmj disorders
By Ronald Ritsco DMD, MS
December 30, 2018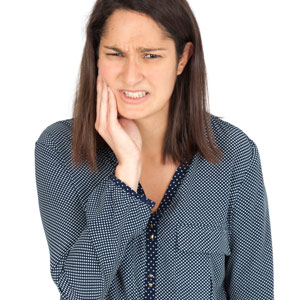 A blow to the face can result in a variety of injuries to your jaws and the temporomandibular joints (TMJs) that join the lower jaw to the skull. Only a thorough examination can determine the type and extent of the injury, and how to treat it.
The pain you feel in your jaw may indicate a direct injury, usually near the joint. This could mean the joint head (condyle) has dislocated, or moved out of the joint space. It could also mean you've fractured your lower jaw, most commonly just below the head of the joint.
Jaw pain can also indicate structures near the jaw and joint have been damaged and the jaw is indirectly affected. In some cases a damaged tooth may be radiating pain signals through the jaw (along similar nerve paths). More likely, trauma to soft tissue near the jaw joint has swelled with inflammation, putting pressure on the joint and temporarily stopping the condyle from seating fully in the joint space.
Any of these injuries can also cause painful muscle spasms, a defensive reaction from the body that causes muscles on either side of the jaw to limit movement preventing further damage (a natural splint, if you will). Thus, the pain may be compounded by a diminished range of motion when you try to chew or speak.
It's important, therefore, to determine the exact cause of pain and limited movement before commencing treatment. Spasms and inflammation are usually treated with muscle relaxant drugs and anti-inflammatory pain relievers. In the case of a dislocation, gentle manipulation can ease the condyle back into the joint space. A fracture would require more extensive treatment, including repositioning broken bone and immobilizing the jaw from movement to allow healing. In the most severe cases, surgical treatment may be necessary to internally immobilize the joint.
If you sustain an injury that results in jaw swelling and pain, you should see us without delay. The sooner we can diagnose and begin the proper treatment for your injury, the less likely you'll encounter long-term problems and the sooner you'll be pain and swelling free.
If you would like more information on the causes and treatment of jaw pain, please contact us or schedule an appointment for a consultation. You can also learn more about this topic by reading the Dear Doctor magazine article "Jaw Pain."
By Ronald Ritsco DMD, MS
October 11, 2018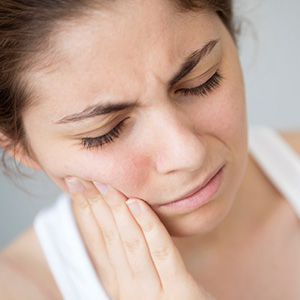 If you have chronic jaw pain, you know how difficult eating, speaking or even smiling can be. Many sufferers will do anything to gain relief, even surgery. But before you go down that road, consider the traditional conservative approach to temporomandibular disorders (TMD) management first—it could provide the most relief with the least risk of side effects.
The temporomandibular joints connect the lower jaw to the skull on either side of the head. These ball and socket joints also contain a cushioning disk to facilitate movement. This disk is believed to be the primary focus for jaw pain problems known collectively as TMD.
Doctors now believe injury, stress, metabolic issues, jaw anatomy defects or similar factors trigger the chain reaction of muscle spasms, pain and soreness that can erupt during a TMD episode. A TMD patient may experience pain within the jaw muscles or joints themselves, clicking sensations, or an inability to open the jaw to its full range.
TMD therapy has traditionally followed an orthopedic path—treating jaw joints like any other joint. In recent years, though, a more aggressive treatment model has emerged that promotes more invasive techniques like orthodontics, dental work or jaw surgery to relieve discomfort. But the track record for this model, especially concerning jaw surgery, remains hazy at best and offers no guarantee of relief. These techniques are also irreversible and have even made symptoms worse in some patients.
It's usually prudent, then, to try conservative treatments first. This can include pain and muscle relaxant medication, jaw exercises, stretching and massage, and dietary changes to reduce chewing force. Patients with teeth grinding habits may also benefit from a bite guard worn at night to reduce the biting force during sleep and help the joints relax.
By finding the right mix of treatments, you may be able to find significant relief from TMD symptoms with the conservative approach. If not, you might then discuss more invasive options with your dentist. But even if your dentist recommends such a procedure, you would be wise to seek a second opinion.
TMD can definitely interfere with your quality of life and peace of mind. But there are ways to reduce its effects and make for a happier life.
If you would like more information on managing chronic jaw pain, please contact us or schedule an appointment for a consultation. You can also learn more about this topic by reading the Dear Doctor magazine article "Seeking Relief from TMD."
By Ronald Ritsco DMD, MS
July 03, 2018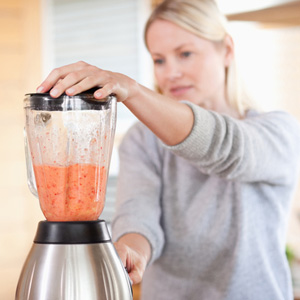 We don't often think about it, but eating is a multi-staged process. It starts, of course, with food that's hopefully high in nutritional value. But you also need coordinated jaw action to chew and shred your food that when combined with the enzymes in saliva can then be effectively digested in the stomach.
But what if you're unable to chew some foods because you suffer from chronic jaw pain and dysfunction? This is the situation for millions of people who suffer from problems associated with the jaw joints—temporomandibular joint disorders (TMD). It's not just the chronic pain and discomfort TMD can cause that's a real issue—it may also be preventing you from eating foods that are healthy for you.
Because TMD can make it difficult to open your jaws wide or causes pain when you bite down, you might especially have trouble with certain fruits and vegetables as well as many meats. Many people opt to skip otherwise healthy foods because they're too difficult to eat. That, however, could lead to lack of proper nutrition in the long run.
But with a few techniques and modifications, you can still include many of these foods in your diet even when TMD discomfort flares up. For one, be sure to cut all your food portions (including toast) into small, bite-sized pieces. These should be small enough to limit the amount of jaw opening required to comfortably place the bite in your mouth and chew. When preparing your food, be sure to peel fruits and vegetables that have skin, which is often hard to chew.
You should also try cooking crisper fruits and vegetables to a soft, moist texture. Choose meat cuts, poultry or seafood that can be cooked to a tender, moist consistency—you can also use gravies and sauces to further moisten them.
And don't forget to chew slowly. Not only does slower eating aid in digestion, it will help you avoid overworking your jaw joints.
With a few adjustments you can have a normal, nutritious diet and minimize the discomfort of your TMD symptoms. Continual healthy eating is a must for overall health and quality of life.
If you would like more information on reducing the impact of TMD on your life and health, please contact us or schedule an appointment for a consultation. You can also learn more about this topic by reading the Dear Doctor magazine article "What to Eat When TMJ Pain Flares Up."